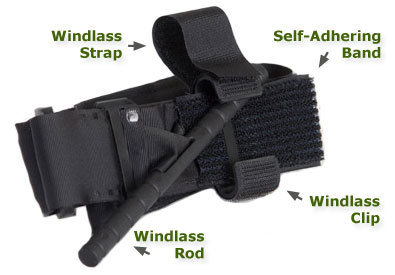 CAT C Tourniquet Tactical Black PN 01-0006
SKU 0001
Product Details
CAT C Tourniquet Tactical Black.
This Medical Trauma Item has been in service now with Airborne Forces-Special Forces for some number of years now. Tried and tested in Afghanistan - Iraq. The British Army now have this as part of their Catastrophic Injuries Management SOPs. I served myself in both operations as a Para Airborne Medic and what it says on the label works. Ideal for any belt Order in Security Ops
History
Official Tourniquet of the U.S. Army

Proven to be 100% effective in occluding blood flow in both upper & lower extremities by the U.S. Army's Institute of Surgical Research

Featuring NAR's Red Tip Technology with a red elliptical tip to assist user in locating and threading during application

Reinforced windlass clip & highly visible security tab includes a writable area to record the time of application

Life Saving Device works in conjunction with the Israel Hemorrhage Bandage and Hemostat dressing.
Save this product for later